Blogs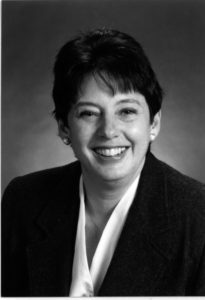 Martha Tinker, of West Des Moines, joined the International organization Toastmasters 20 years ago when she first moved to the area. She wanted to meet people and improve her professional skills as a communicator. Toastmasters seemed like the perfect place to solve both of these situations.
Now, Tinker has earned the highest award given out to Toastmasters in District 19, which covers Iowa and parts of Illinois and Nebraska. Tinker was awarded the prestigious Cap Sias Award at the District 19 Fall Conference held in Cedar Rapids on Nov. 14.
The Cap Sias Award is to acknowledge and honor an exemplary member who displays commitment, dedication and effort for the Toastmasters program and fellow members, and who has made significant contributions toward achieving the goals and mission of the club and District.
"Receiving the Cap Sias Award was both humbling and an honor. It represents 20 years of service to an organization I believe in," said Tinker.
"We hear it said so many times that Toastmasters can change your life. I am proof this can happen," she said. Tinker comments that she was shy growing up and while in college. She had never given a speech in front of more than five people. At parties, she said, she clung to the wall and let everyone else do the talking.
"Joining Toastmasters literally changed all of this," she said. "I found a friendly, welcoming environment that supported me, no matter what I said."
It wasn't long until Tinker had volunteered to be the Treasurer of her club and from there rose in the ranks.  "I discovered taking on challenges and situations out of my comfort zone was fun. Throughout this process, I gained more and more confidence and self-esteem. I discovered that I could speak up at parties, business meetings and other social events – that my opinion mattered."
Tinker indeed rose through the ranks of the organization, achieving the highest rank of International Director. Through this experience, Tinker said she learned a lot about politics. As a member of the Board of Directors, she learned about strategic thinking and working on governing committees. "There are things where everyone can benefit, no matter where you are in life or your professional career," she said. "Toastmasters has a strong focus on leadership. But no one can be a leader without good communication skills. Toastmasters combines both of these attributes into one and truly is a place where leaders are made."
Tinker said she hopes to continue to serve District 19 for many more years as a mentor, adviser, and resource, and that this award can act as an inspiration for others in the District. "I believe role models are important, and maybe receiving this award will inspire others to 'reach for the summit,'" she said.