Greater Des Moines Toastmasters Club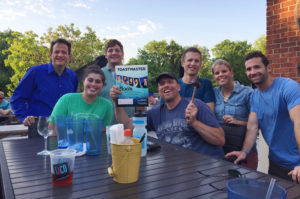 Chartered in 1960, Greater Des Moines Toastmasters is one of the oldest Clubs in the District. As is evident from multiple Distinguished Club awards in years past, GDTM members love to work hard with the Toastmasters program.
Theirs is a strong partnership with the host organization – Covenant Presbyterian Church in West Des Moines. The Church appreciates all that these Toastmasters do for giving marketable public speaking, leadership and business skills, to community members who may be new to Des Moines, Iowa or the United States. This is truly a welcoming, diverse Club.
So, when their meeting venue was recently unavailable for a meeting, these Toastmasters decided to take things outdoors. Food camaraderie and conversation flowed generously. Members got to know each other and their Club officers. Ideas and strategies for maximizing their experience were exchanged. Such social events are the glue that bind Clubs together.